Hello! We're Mikutowski Woodworking
Read below to learn who we are and why we love what we do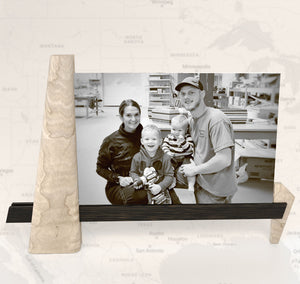 Friends & Family...
Founded in 1986, Mikutowski Woodworking is the definition of "small but mighty". We specialize in handmade, high quality wooden jewelry boxes and is located in North Eastern Wisconsin/Michigan's Upper Peninsula.
Many are shocked to learn the fine woodworking shop employs only five people to take raw lumber through the hands-on production process. Another two employees bring the finished product through the invoicing, packing, and shipping stages as well as provide excellent customer service.
Despite the small workforce, Mikutowski Woodworking manages to produce about 20 different products and sells to art galleries, boutiques and novelty stores from coast to coast.
Handcrafted to perfection
Each piece by Mikutowski Woodworking is certainly deserving of its "handcrafted" designation!
Detail, Quality, Craftsmanship
In pursuit of a superior product, handmade jigs, custom pieces and even equipment are all designed by the woodworkers. The woodworking techniques may be described as "old-school", but it only adds to the character of the line. Each jewelry box is still expertly hand sanded to a smooth buttery finish. In addition, all products are finely detailed by hand. Furthermore, stain is never used in the manufacturing process. The wood's natural grain is the star and it should shine through in the final product. Only a water based and eco friendly coat is applied to the pieces in order to give a beautiful luster and protection. Aside from the laser engraving machine, no computerized equipment is utilized. Each Mikutowski Woodworking piece is certainly deserving of its "handcrafted" designation!
Whether it's a small desk item or a large jewelry chest, the passion is evident in the masterful workmanship and fine details of each piece. From the signature shape work to carefully chosen lumber, each piece is handled with the utmost care and dedication.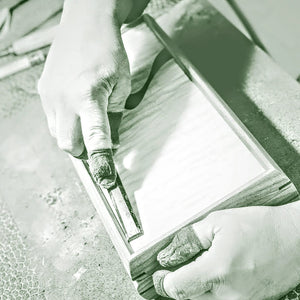 Meet the team
Whether working in the office or hands on with the product, the whole team is making sure that your Jewelry Box is made to perfection

Dan
Creative mastermind (and owner)
Jessie
The Boss of bosses who wrangles in all these wonderfully creative personnel
Tera
Her stunning detail work is on par with her fun and outgoing personality

Jenny
Dazzles with her attention to detail and wit
Karla
The mother of the shop - nothing gets past her eagle eyes
Carrie
The chemist with the attitude to match

Glenn
The new artist on the block (he has a Bachelor of Arts in drawing and painting)
Is it You?
We're always looking for additional pair of hands, Get in touch.
Tradition, Future and the Internet
Our handmade products available online & delivered nationwide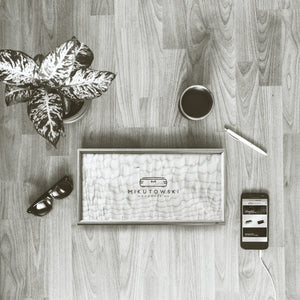 With the Vision in mind...
Over 30 years ago, Mikutowski Woodworking was started by Mike and Liz Mikutowski. In December of 2017, Mike and Liz sold their business to Dan and Jessie Chernetski.
Dan and Jessie are inspired daily by nature and their family. Dan can be found in the back of the operation choosing the most beautiful hardwoods for your boxes, creating new products and singing loudly (and horribly) while Jessie often answers the phone, responds to your emails and tries to keep Dan in line - it doesn't work :).
The same high standards still remain; attention to detail, quality and craftsmanship. These things not only apply to our products but the customer service provided.
The hope is to continue Mikutowski Woodworking for the next 30+ years by building upon these foundations and bringing these expertly handmade traditional pieces into the modern world not only through design but through the use of technology.
Now you know our story
Click the button below to see our favorite products